About DeKalb Blower
DeKalb Blower is an industry leading designer and manufacturer of superb quality custom, semi-custom, and standard fans ranging from heavy duty industrial process fans to OEM fans to a comprehensive line of commercial supply and exhaust fans for the HVAC plan and spec market. DeKalb Blower is able to customize fan solutions the exact application need for our customers. Our technical design capabilities and comprehensive testing services allow us to provide superior quality products every day to our customers.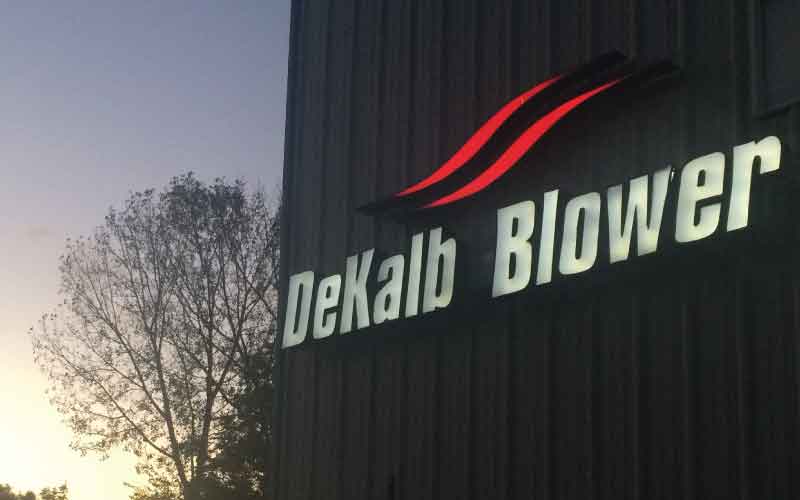 ---
History
Our company, located 60 miles west of Chicago, Illinois USA has been a manufacturer of industrial fans and electric motors since 2000. Our team has over 45 years experience in the fan and blower industry. We offer air moving equipment at attractive pricing, backed by outstanding service, response, and product reliability.
Customer satisfaction and loyalty is our goal!
Our efforts are to accomplish this goal by offering products of the highest quality available today. Our design, manufacturing and stringent quality control methods are backed by years of experience and utilization of the latest in technology.
Full Product Range
DeKalb Blower has a wide variety of standard products to fit your needs.
Modified and Custom fan and blower products are often available for your specialty fan needs.
Quality Assurance
Precision CAD design systems and computerized fan selection programs minimize the chance for errors.
Strict quality control procedures through the entire manufacturing process allow DeKalb Blower to maintain an excellent reputation for quality and dependability.
Visit Our Virtual Tour On Google
Take a look at our facilities and see how we can produce industrial fans and blowers
You can click on the images and rotate around to view the various areas of our manufacturing facilities.